Logo design, Sea to Sky Removal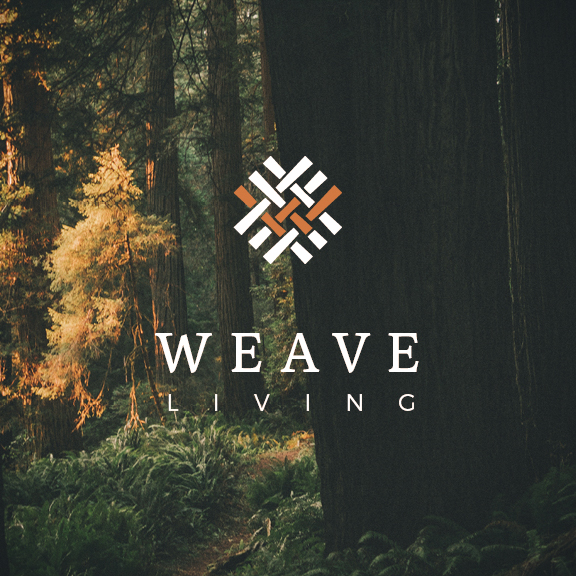 Logo design - Weave Living
Weave Living is an upcoming senior's community in South Surrey with a wide spectrum of services and amenities.
The weave symbol represents the various levels of integrated care that wlll be available for residents.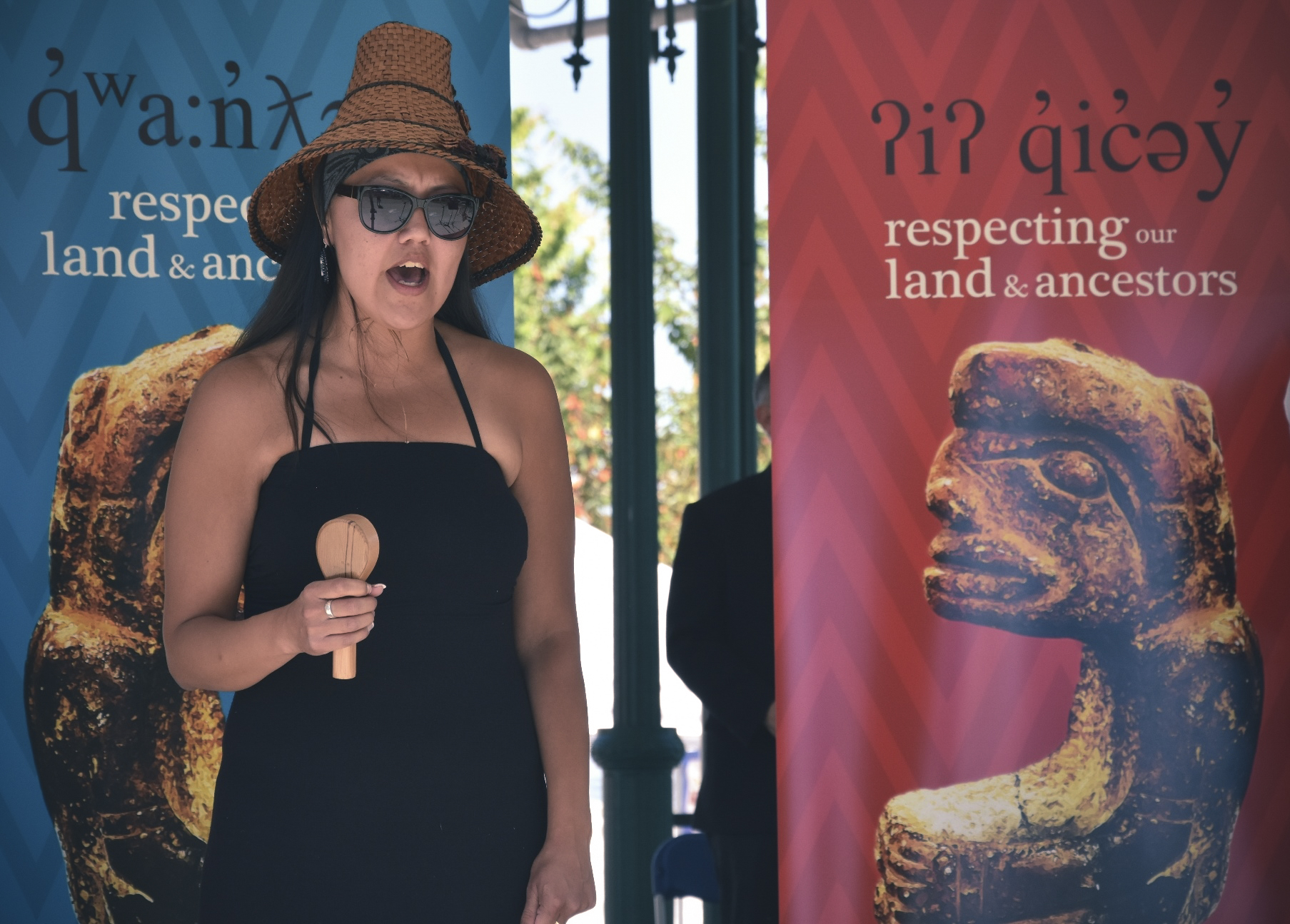 Graphic design - City of Maple Ridge street banners
Pictographic Creative created two banner designs that were dedicated to celebrate and acknowledge the Katzie & Kwantlen First Nations.
An artifact known as 'Qelemteleq' served as a unifying element for the banner design, as it was recovered on unceded traditional territory in Maple Ridge.
Graphic design - Surrey Mental Health & Substance Use Urgent Care Response Centre
The centre features nature-inspired interior window designs, allowing for private spaces for clients and their families while they wait to receive care.
This was a collaboration with Trenton Pierre of Katzie First Nations, who was responsible for the artistic vision. Pictographic Creative realized Trenton's designs in digital form for fabrication and installation.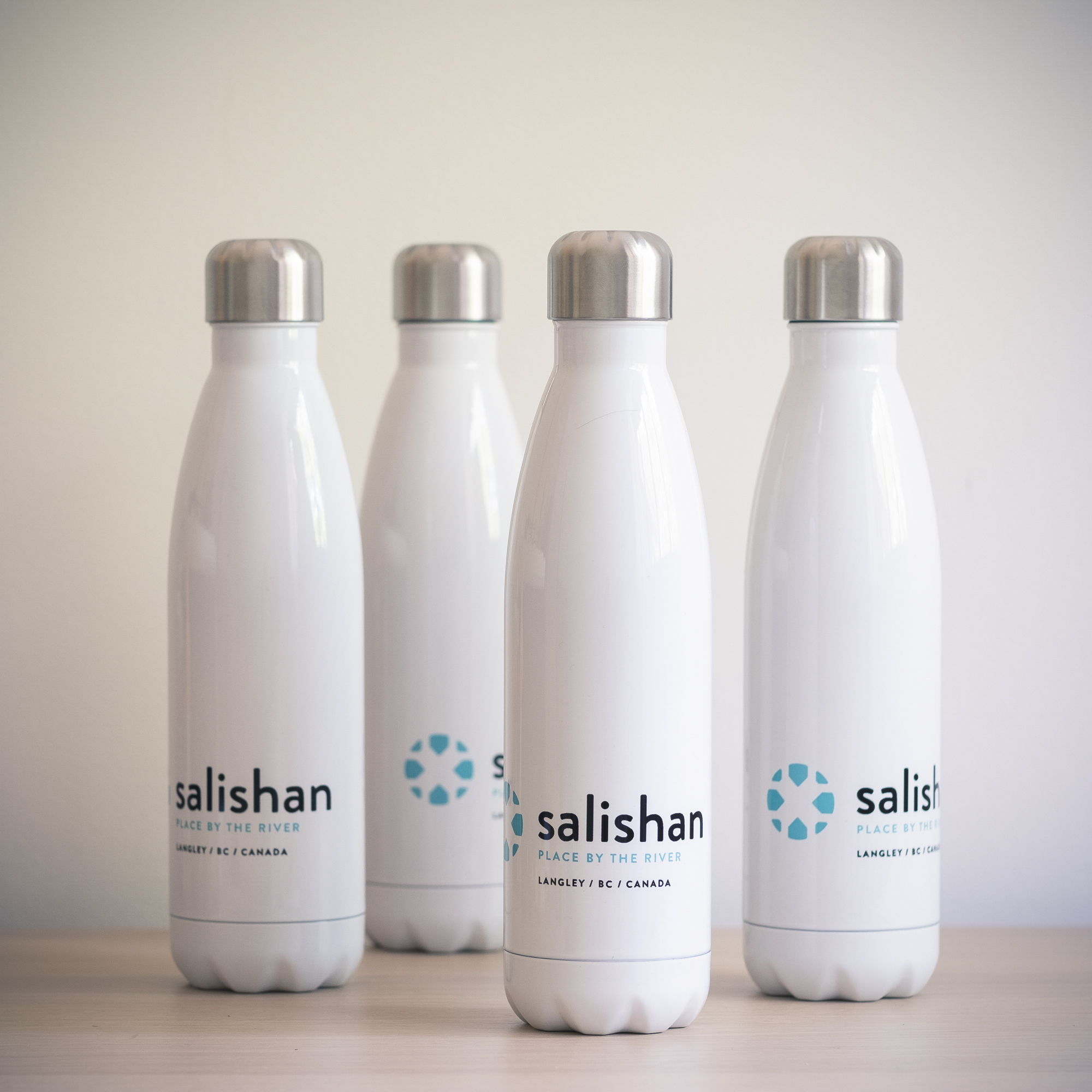 Logo design - Salishan, Place by the River
Logo design for a development to include two museums, a library, and other cultural amenities in Fort Langley.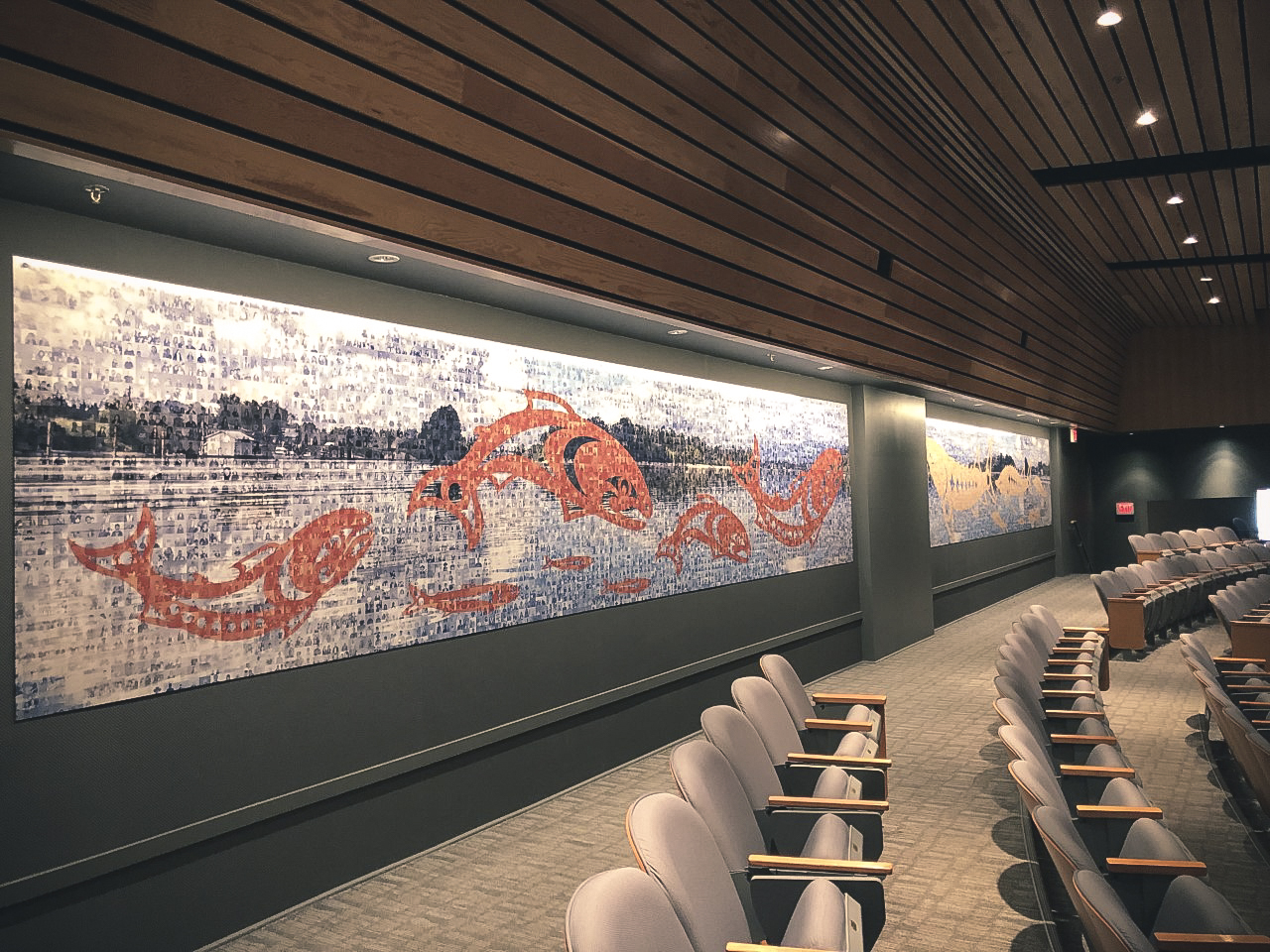 Graphic design - stɑl̓əw̓
stɑl̓əw̓ is a photo mosaic that features 1,600 photos of members of the community. It depicts the Fraser River, salmon, and sturgeon, has been installed in the Township of Langley's Presentation Theatre as a legacy project.
stɑl̓əw̓, means "big river," and was made by artist q̓ʷɑt̓ic̓ɑ (Phyllis Atkins) of the Kwantlen First Nation.
Graphic design, Raven and the First Sunrise
Brandon Gabriel's (Kwelexwelsten) colourful design for the Guildford Library windows depicts the First Nations story in which the raven brings sunlight to the earth.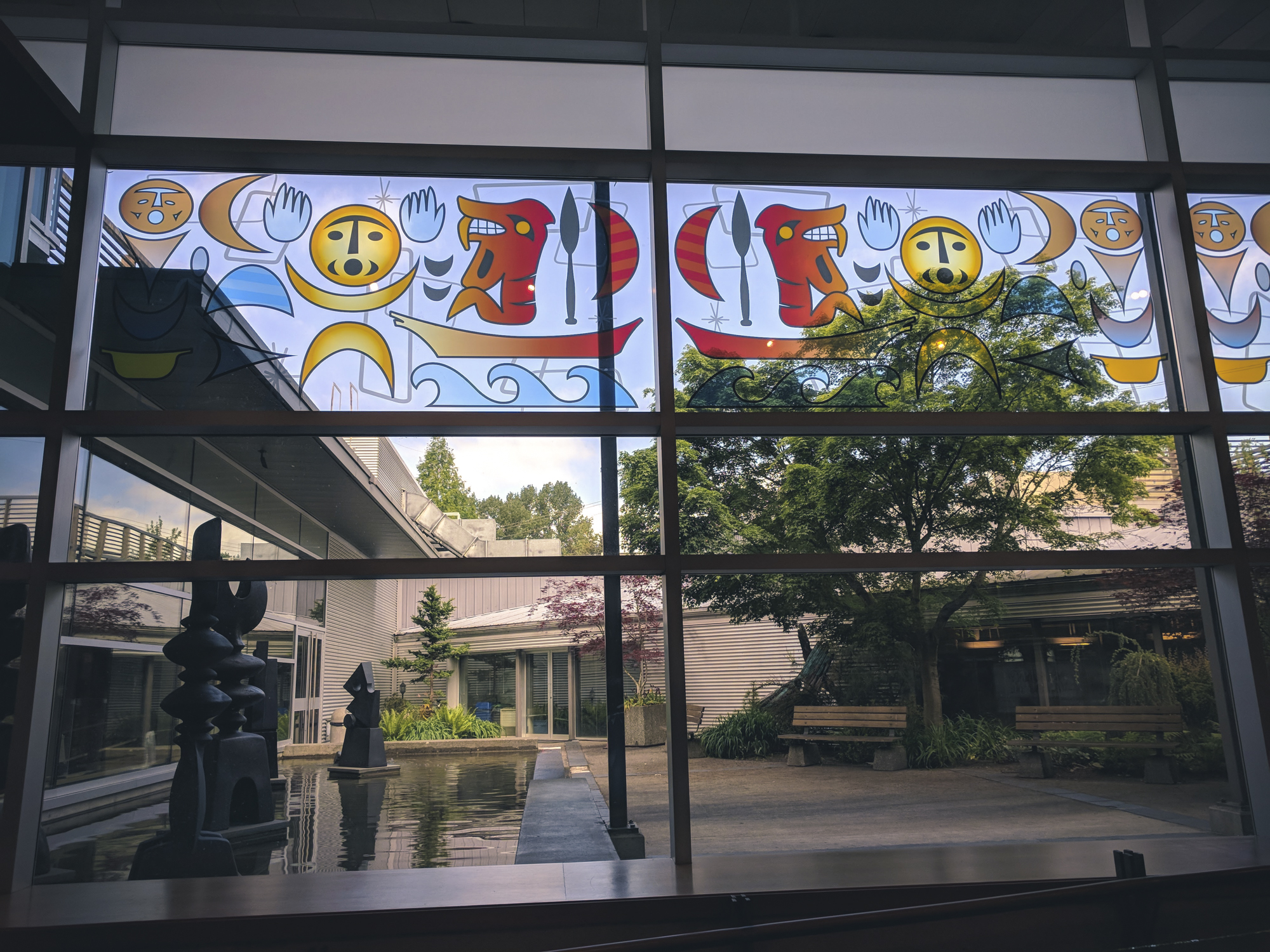 Graphic design - Retro Perspective
Drew Atkins' design on the courtyard windows of the Surrey Arts Centre speaks to Kwantlen First Nation's long history on the land where Surrey exists.
The piece incorporates Coast Salish design elements in a style reminiscent of 1950's wallpaper or modernist sculptures.
Photography: Museum of Surrey - Indigenous Hall
Photography for a vinyl wall application at the Indigenous Hall, located at the Museum of Surrey.
The space is designed to share historical and contemporary information about Kwantlen, Katzie and Semiahmoo First Nations, who share unceded territory in Surrey.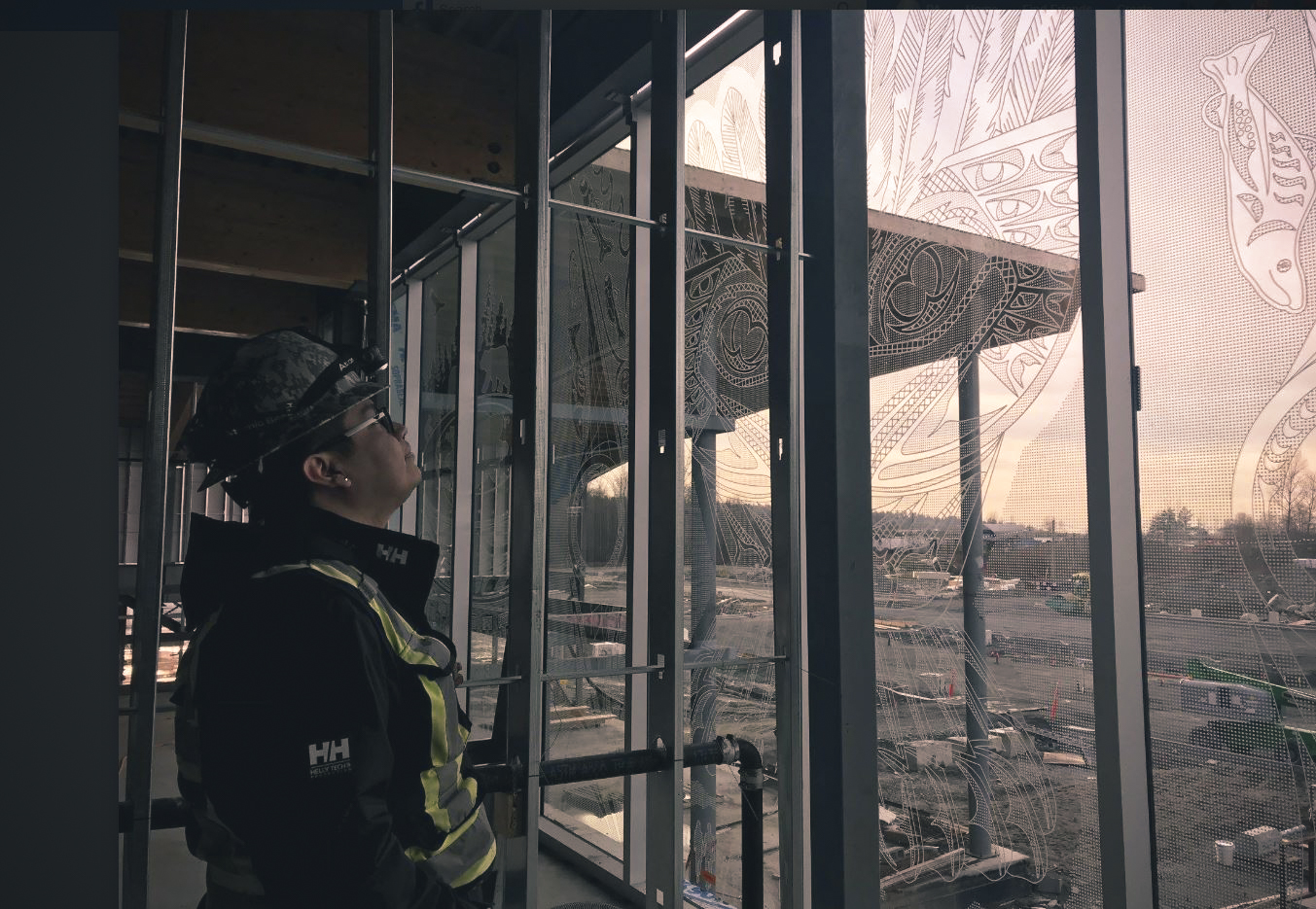 Graphic design, Guardian Spirits
Fabricated in white frit dots on clear glass, ­­Trenton Pierre's mirrored designs for the windows of the North Surrey Sport & Ice Complex symbolize reconciliation in the form of a contemporary Salish dance mask and drum filled with hopeful symbols.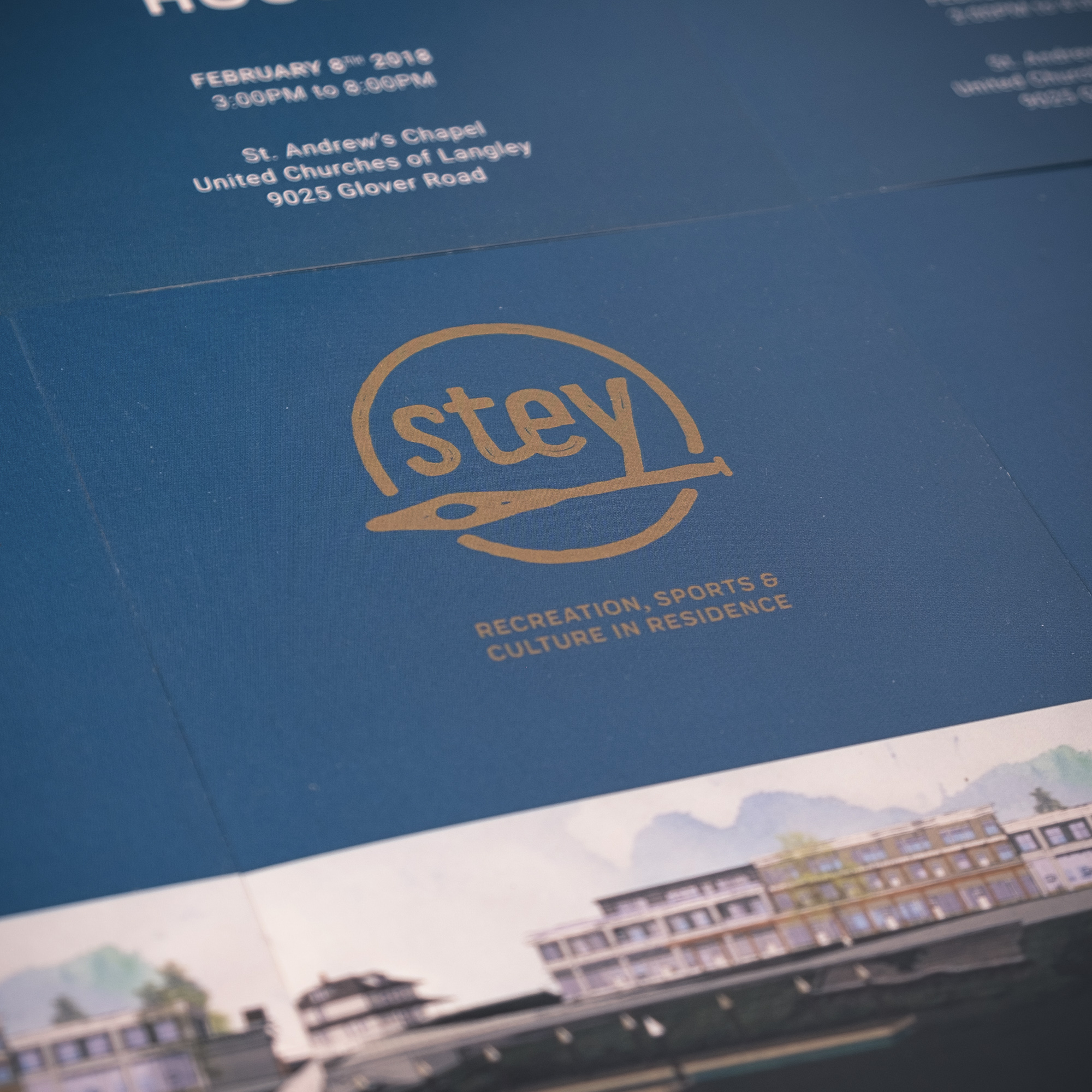 Logo design - stey Lodge
Logo design for a not-for-profit residence and community hub development, in partnership with seyem and the Township of Langley.
'stey' translates to Canoe race, fitting for a development that will be built on Fort Langley's riverfront.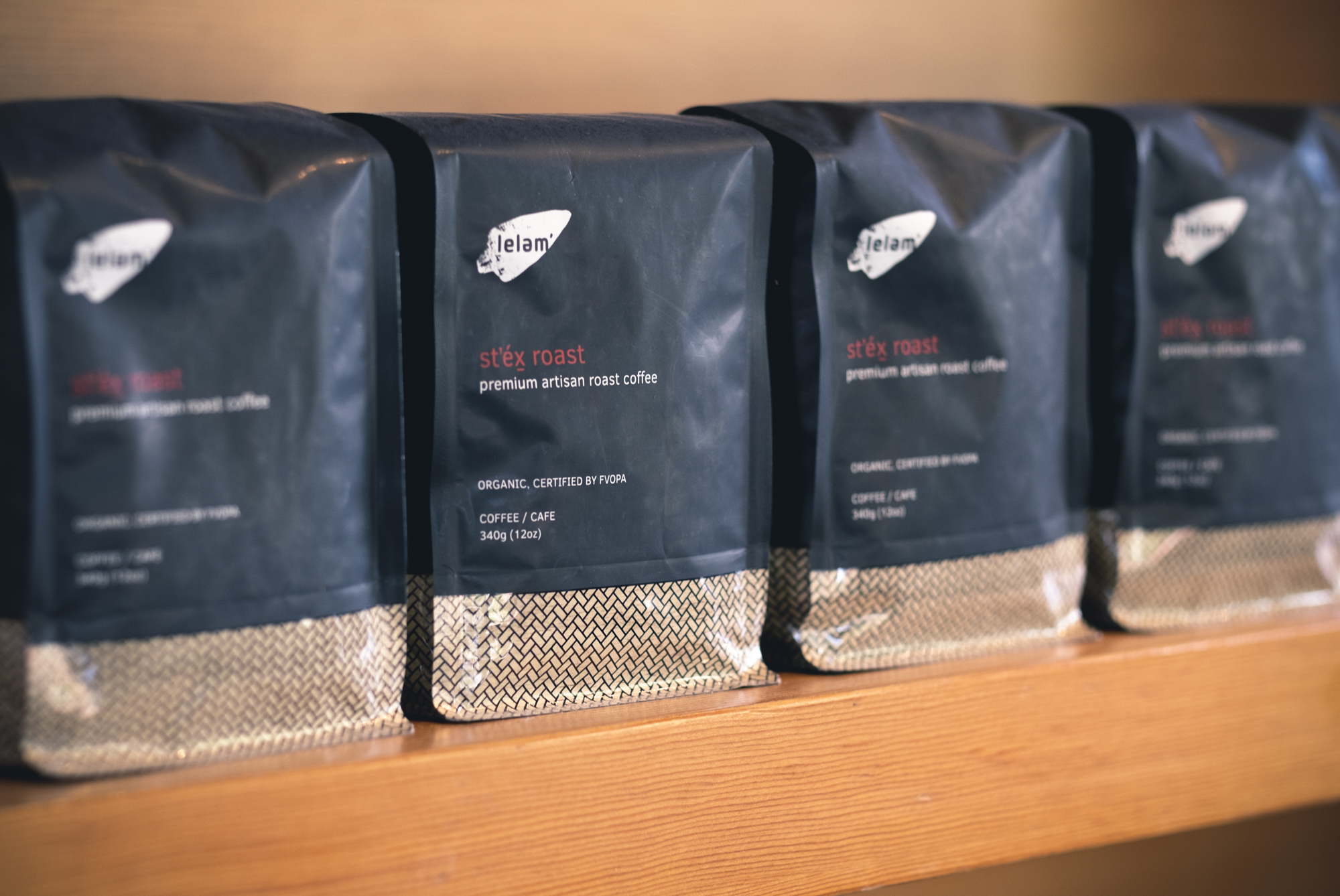 Branding - stex roast coffee
A certified organic coffee carried at lelem' restaurants and cafes.
stex means 'Fork in the River' in the henqeminem language.
Graphic design - We Are All Connected to This Land
This contemporary Coast Salish artwork has been cut from powder-coated red aluminum and attached to the walls of the bridge spanning Bear Creek.
Phyllis Atkins' (q̓ʷɑt̓ic̓ɑ) design features three salmon, a sun, an eagle, a moon, and a wolf from left to right, mirrored on the other side of the highway.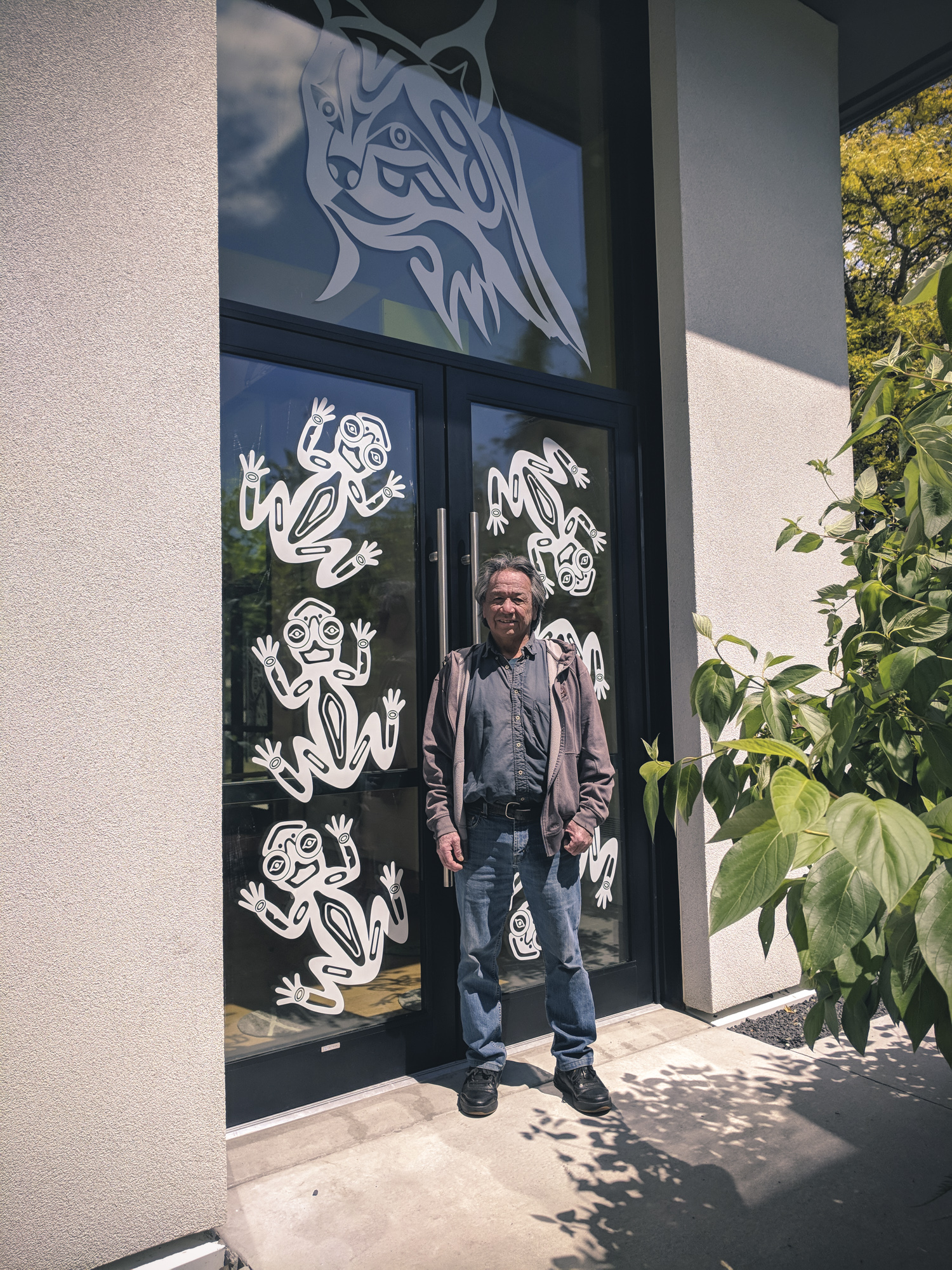 Graphic design - snəw̓eyəɬ: Nature's Teachers
Wes Antone's designs on the doors and windows of the Surrey Nature Centre consist of a moon and ten animals: a wolf, lynx, chickadees, hummingbirds, frogs, owls, and two different woodpeckers and cranes.
Wes' aim is to educate the many children who frequent the Centre about the meaning that the Kwantlen associate with each figure.
Blanket design - Kwantlen Seven Laws
A traditional style blanket of the Kwantlen First Nation.
The blanket incorporates the sacred teachings of the seven laws in traditional language: health, happiness, humbleness, generosity, generations, forgiveness and understanding.
Website - D. Wiens Contracting
lelem' Gift Card Program
Development of a gift card program for lelem' restaurants and cafes that included card design, envelope design and seasonal promotional campaign.
Each year has seen an increase in sales since its inception.
Website - First Nations Fisheries Legacy Fund
Pictographic Creative was enlisted to build this organization's Squarespace website, and provided most of its photography.
FNFLF was established to ensure a positive and productive collaboration between First Nations, governments, and the private sector to protect, preserve and enhance important environmental areas.
Let's Count the Moon book
This board book was developed for Langley School District 35 by Kwantlen artist Phyllis Atkins and Kwantlen language teacher Fern Gabriel.
Through Phyllis' designs of the moon, this book teaches children to count in the traditional language of henqeminem.